'Digestive Fire' is a term in ancient Ayurvedic medicine that refers to the ability to "break down the food and other things we ingest from the environment, assimilating what is useful, and eliminating the rest" -Sheila Patel, M.D.
For years now I have started every morning with drinking a big glass of lemon water. I still do, but now I've added another morning drink to the mix. I like to call it my morning cocktail. There's obviously no alcohol in it, but it starts a fire in my belly like a shot of vodka.
It's been a little over a month since I've started drinking this morning cocktail daily and it has made a drastic difference in how I feel overall. This drink is yet another reason why I love nutrition. There's ALWAYS more you can do to feel increasingly vibrant.
Water, lemon juice, apple cider vinegar, raw honey, and cinnamon make up this sweet and spicy cocktail. Every ingredient in this drink serves a very important purpose.
Let me break it down for you…
Water:
Everyone knows that water is vital for good health. I, for one, am a huge advocate for drinking water. I could write a whole blog just about how important water is. Oh wait… I've already done that! 🙂 You can read it here.
Lemon Juice:
I love lemons. The smell, the color, the flavor… AND they're good for you. Lemon water is always a part of my morning, but finding ways to incorporate more lemon juice into your diet will reap many benefits. Lemon juice is full of Vitamin C, potassium, calcium, and magnesium! It's also a natural detoxifier. Lemon juice detoxifies the liver to speed up metabolism and improve digestion. When the metabolism is functioning efficiently, toxins are expelled from the body to shed excess weight and give the skin a healthy glow. Lemon juice keeps the digestive system in balance by relieving heartburn, bloating, and constipation. Not to mention, it alkalizes the body, which helps fight infection and disease. This is clearly an important ingredient in the morning cocktail!
Apple cider vinegar:
Oh, ACV…. That's short for apple cider vinegar 🙂 I just love this stuff. There are so many benefits and uses for apple cider vinegar, but I'll keep it relevant to the morning cocktail. First and foremost, always use raw and unfiltered apple cider vinegar. Bragg's is my favorite brand, it's the best quality! Apple cider vinegar assists with digestion by immediately increasing circulation – moving energy throughout the body. It has a warming effect (part of the digestive fire) that increases blood flow and detoxifies the liver. It also increases the hydrochloric acid production in your stomach to help break down and digest food throughout the day. Similar to lemon juice, ACV also has an alkalizing effect on the body.
Raw honey:
Sweet and delicious honey not only makes this drink taste much better, but it has its own medicinal properties. Raw honey is packed with B vitamins, amino acids, enzymes, and minerals. It has anti-fungal, anti-bacterial, and anti-viral properties, which build the immune system to help fight sickness and disease. Honey is also a great energy booster, giving the body necessary sugars to feed the brain and muscles. It's important to buy raw honey, and if possible, find it from a local source as well. Honey from local bees will have the most positive influence on your health.
Cinnamon:
Cinnamon is another powerhouse ingredient in this cocktail. The sweet and strong flavor is hard to beat, but the anti-inflammatory properties take the cake. It reduces inflammation in the cells and tissues, being a miracle worker for autoimmune conditions. Cinnamon also helps control blood sugar which is vital for weight and energy maintenance. It's warming to the body and aids in circulation of the blood while also increasing digestive fluid secretion to help break down food. To learn more about cinnamon, you can read my blog about it here.
I am a big advocate of this drink because of its anti-inflammatory properties. Inflammation is the root cause of all sickness and disease. When you can eat or drink certain foods to reduce inflammation, you will give your body a fighting chance to avoid sickness. Did you know that arthritis is an inflammatory condition? Imagine if drinking this Morning Cocktail could ease arthritis symptoms… without medication! Also, Inflammatory Bowel Disease, Crohn's Disease, etc. are also inflammatory conditions. Any disease that is brought on by inflammation can benefit from this drink. Think about that… It's a game changer for me.
Less inflammation = fewer symptoms.
Just a few of the other benefits I have experienced since I started drinking this cocktail are:
Increased energy in the morning
Better digestion
Less bloating
Weight loss
I don't know about you, but more energy in the morning is enough of a selling point for me! I know many people who struggle to get going in the morning and could use a boost of energy. This cocktail will do just that. Try out the morning cocktail every day for at least two weeks. I know it will positively influence your health!
Morning Cocktail
Ingredients
12 ounces water
2 Tbsp. raw apple cider vinegar
Juice of ½ lemon
1 tsp. raw honey
½ tsp. ground cinnamon
Instructions
Add all ingredients to a blender or shaker bottle and blend/shake until all ingredients are mixed. Drink immediately.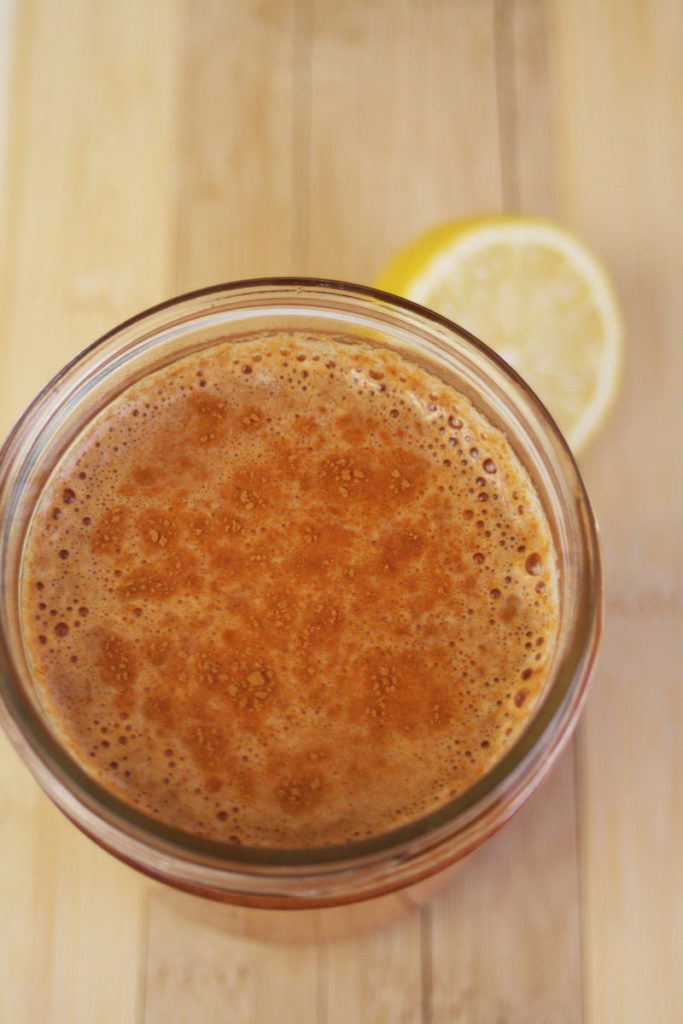 Comment below to tell me about your experience when you try the morning cocktail 🙂
With joy and health,