I absolutely love this recipe, and if you're a fan of a cold glass of lemonade on a hot summer day, you'll love it too! This Anti-Inflammatory Turmeric Lemonade will give you all the feels.
It's a healthier version of traditional lemonade, but it still tastes like the delicious drink you know and love.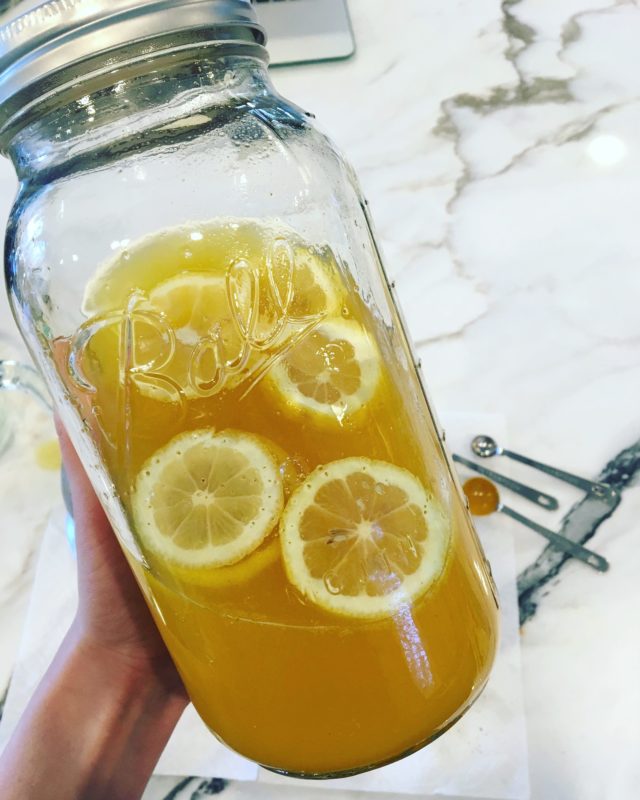 Did you know that lemons themselves have amazing medicinal properties?
They help alkalize the body and bring your body's pH levels out of an acidic range in order to prevent disease and promote overall health. So, not only are they tasty, but they are incredibly good for your body as well. I talk about lemon water all the time as a morning beverage, so this is a delicious way to continue your lemon intake all day long!
We are giving this lemonade a little extra power with the help of turmeric.
If you're not familiar with turmeric, it is a spice that helps to reduce inflammation in the body and also provides the body with powerful anti-oxidants. Inflammation is the root cause of disease, so when you can reduce chronic inflammation in the body, your body will be healthier overall. Turmeric is a wonderful spice that, when used correctly, adds an amazing flavor to your food or drink and helps you maintain your overall health.
Watch my video below to learn more about this Anti-Inflammatory Turmeric Lemonade and how to make it!
Grab the full written recipe here:

Anti-Inflammatory Turmeric Lemonade
Cuisine:
Gluten-free, soy-free, sugar-free, dairy-free, vegan
Ingredients
½ cup lemon juice⠀
4 cups water (or more to your taste)⠀
1 tsp. ground turmeric⠀
½ tsp. liquid stevia⠀
Pinch of black pepper
Instructions
Add all ingredients to a mason jar and shake it up! Store in the refrigerator and pour over ice upon serving.
Notes
Add chia seeds to each individual serving immediately before drinking for an energy punch!

Add your favorite frozen fruit instead of ice upon serving for a fruity lemonade!
With joy and health,