I absolutely love these chicken bowl meals! If you are looking for a quick and easy way to have delicious meals ready to go, with minimal cooking, you're going to love these too. I'm going to show you how to make two meals- Mexican Chicken Bowls and Greek Chicken Bowls.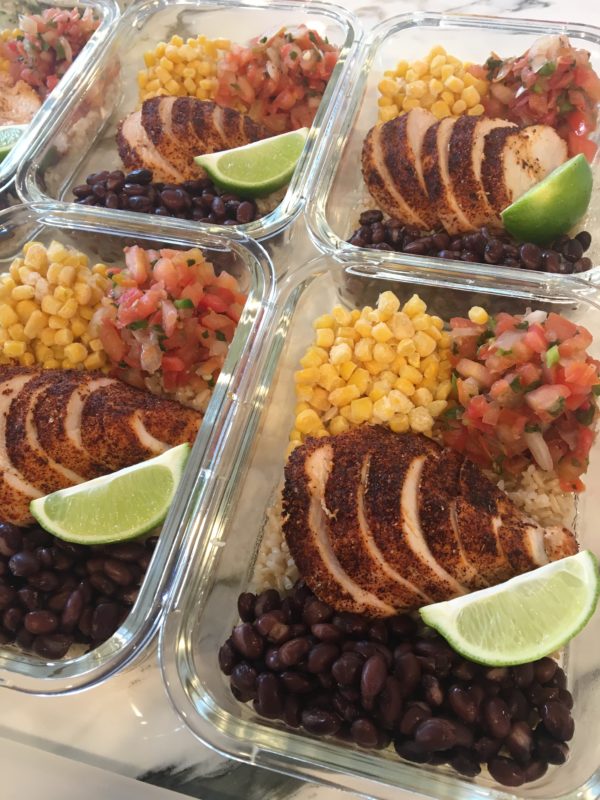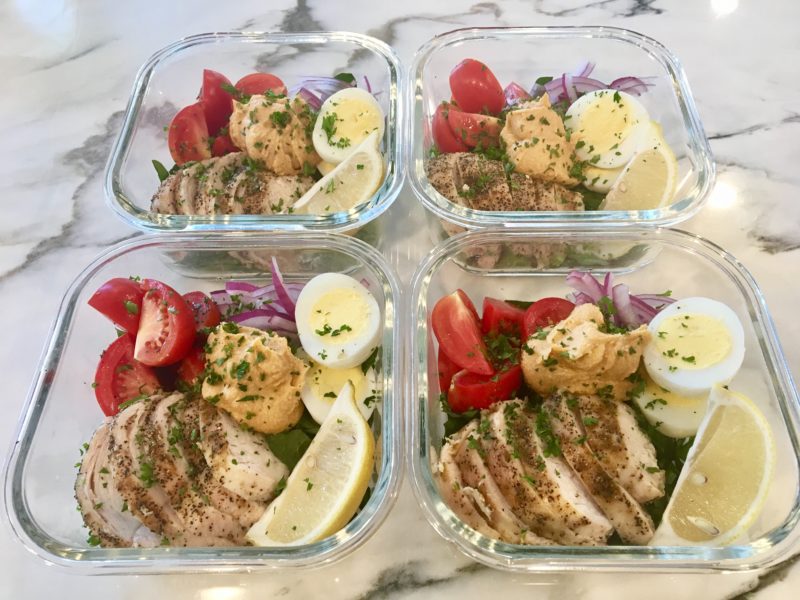 Both of these recipes contain fresh ingredients as well as healthy store bought ingredients. Store bought ingredients really save you time when you are prepping, and (as long as you choose the right ones) can be just as healthy for you as fresh ingredients.
To start, I place all of my chicken breasts on one sheet pan. Even though we are making two different types of bowls, we can cook all of the chicken together to save some time.
Prepare Chicken
To make the Mexican Chicken Bowl, season the chicken with garlic powder, chili powder and chili lime seasoning (My favorite is found at Trader Joe's). These add a nice chili flavor to your chicken!
For the remaining chicken breasts, we are going to use Himalayan pink salt, ground cumin, and black pepper to add the flavor for our Greek Chicken Bowls.
Assemble the Bowls
Greek Chicken Bowl
For this recipe, use spinach as the base and place it on the bottom of your container. Then, add tomatoes (chopped up in wedges) and sliced red onion. Tip: If you don't like the super harsh taste of the onion, soak it in a bit of water for a few minutes before adding it to your bowl. This will take away some of that harsh taste. Also in this bowl is a halved hard boiled eggs. For this recipe, the only two things that you actually need to cook are the chicken and the eggs. So simple!
Next comes the chicken. I don't use the whole breast for this meal. Instead, I slice the chicken up and place about half of the breast of it on top of the other ingredients. You can use the remaining chicken to make another bowl, or save it for a different meal later in the week.
The next step is to add a spoonful of hummus to the middle of your container. You can use store bought hummus, or make your own. For this recipe, I used store bought Sriracha hummus. (Be sure to check the label to make sure that there's no added sugar.)
Finally, add a lemon wedge to the bowl. The citrus flavor acts almost like a dressing, and will add a freshness to the food when you are ready to eat it.
Sprinkle your bowl with fresh parsley and viola!- you have a tasty Greek Chicken Bowl to enjoy for lunch or dinner!
Mexican Chicken Bowl
This bowl gives you all of the spicy Mexican flavors that you love, without having to labor over the stove.
In your bowl, put a layer of brown rice and black beans. I love the frozen boxed rice from Trader Joe's, as you can just add it to the container frozen, and it will cook when you are ready to heat the bowl up. You can cook your rice yourself, whichever you prefer. You can use canned black beans, just be sure to drain and rinse them before adding them to the bowl.
Next, add in corn and pice de gallo. I like to use frozen organic corn kernels. They add a bit of sweetness to the bowl, which perfectly compliments the spicy flavors from the chicken. I also use store bought pico de gallo. It's super convenient and doesn't contain preservatives.
Finally, add in the chicken. For this recipe, use the whole chicken breast and just leave it as is or you can slice it. Note: Keeping it whole will help the chicken stay tender and moist when you heat it up again.
Finish it off with a lime wedge and you're done!
So, what did you think? Easy, right?
You now have two delicious meals ready to go with minimal cooking!
I recommend heating them up in the oven, but you can also use the microwave. The Greek bowl is even good cold, so no need to reheat!
You can check out the video with full prep instructions below:
With joy and health,

P.S. If you are local to the south Bay Area in California I am happy to announce that I am taking on new personal chef clients! If you want to have healthy meals ready-to-go in your fridge without lifting a finger, contact me and let's chat. Your kitchen is waiting for me 🙂