Let's talk about meal prep. But even better, let's talk about EFFORTLESS meal prep.
When most people think about meal prep, they envision themselves laboring for hours to get meals ready for the week.
What if I told you that I could help you make meal prep for the week without doing any cooking?
Here are some tips that I use to prep my meals when I have a busy week and didn't have time to make full meals ahead of time. They will not only help you save time, but will also help you make healthier food choices throughout the week.
The written breakdown…
Smoothies
Prepping your smoothie ingredients will save you so much time each morning. Your going to add the superfoods + greens so that all you need to do each morning is add liquid into your blender, your prepped smoothie jar ingredients, and fruit of your choice and you'll have a quick smoothie. This is also helpful in making sure you're getting a variety of ingredients in your morning smoothies rather than always using the same foods.
To store my smoothie ingredients, I use these tall wide-mouth Mason Jars.
Here is an example of a superfoods + greens mix:
Chia Seeds- 1 tablespoon
Hemp Seeds- 1 tablespoon
Romaine lettuce, washed and chopped – handful
Spinach – handful
Microgreens – handful
When layering your ingredients in the jar, be sure to put the ingredients that will last longer towards the bottom. For this recipe, I put the chia and hemp seeds on the bottom, followed by the romaine, spinach and lastly the micro greens.
When all of your ingredients are in the jar, place the lid on tightly and store in the refrigerator until you are ready to use them. I love these white lids for smoothie prep.
Veggie Prep
You can easily prep veggies for any meal. Then when it's time to cook during the week, you can skip the washing and chopping because you already did it!
Chop up any veggies that you will want to use during the week. I love prepping brussels sprouts ahead of time by slicing off the bottom and cutting them in half lengthwise. Then they are ready to throw on a baking sheet and roast in the oven whenever I want them.
To store your veggies, I highly recommend using these Stasher bags. Not only are these bags amazing for storing your food, but you can also cook your veggies right inside! They are made of silicone, and much safer than plastic bags.
Prepped Stir-Fry Meal
Preparing veggies for a stir-fry dinner is so simple!
For this recipe, I used:
Snap peas
Broccoli florets
Carrots
Red bell pepper
Chop up all ingredients and layer in your Stasher bag or container of your choice.
Helpful tip!! Put the veggies that need to cook the quickest at the bottom of the bag/container. When you're ready to cook, simply spoon out each layer of veggies from your bag based on their cooking times. The veggies that take the longest to cook should be on the top.
I love to pair these stir-fry veggies with store bought cauliflower rice. The freezer section at Trader Joe's has my favorite cauliflower rice, but cauliflower rice is also available at most grocery stores. Pairing healthy frozen foods with fresh items is a huge time saver!
When you are ready for dinner, simply cook your veggies, mix in the cauliflower rice, then add in gluten-free tamari or coconut aminos plus a dash of toasted sesame oil. Boom, there's your quick & easy stir-fry meal that you prepped ahead!
Snacks
Convenient healthy snacks are going to contain a combination of fresh ingredients and store bought ingredients. When you are purchasing store-bought ingredients for your snacks or meals, make sure to look at the ingredients. You'll want to choose items that contain minimal ingredients that you can recognize what they are! Stay away from items that contain preservatives.
I love a store bought guacamole and veggies.
Carrots and peppers were in the stir-fry meal, so that's handy!
Slice up the carrots into carrot sticks, these are perfect for dipping into the guac. And use bell pepper slices too.
I also used cucumbers and sliced those into rounds. They look like little chips, but are so much healthier for you!
The veggies and guacamole make a healthy and filling snack.
And of course, I always have apples on hand because nature provides the best snacks!
Tip: You'll be more likely to eat healthy snacks when they are prepped and ready to go in your fridge. Keep all of your healthy snacks in one spot in your fridge so that you can grab and go easily.
Hilary's Veggie Burgers
I found some of the most delicious veggie burgers (Hilary's) in the freezer section at my local grocery store. They contain whole grains (quinoa and millet), veggies, and seasoning – with no preservatives! I like to pair the burgers with a large helping of salad greens and homemade dressing. These veggie burgers take about 10 minutes to cook, so this makes for the quick, healthy lunch or dinner meal when you're in a pinch.
Desserts
In case you haven't noticed, I love Lara bars! I keep them in my pantry for a satisfying snack that also has some sweetness.
I've also recently fell in love with these amazing chocolate bars from Eating Evolved. The bars are made with coconut sugar instead of processed white sugar. They offer a variety of flavors and also have a sugar-free option.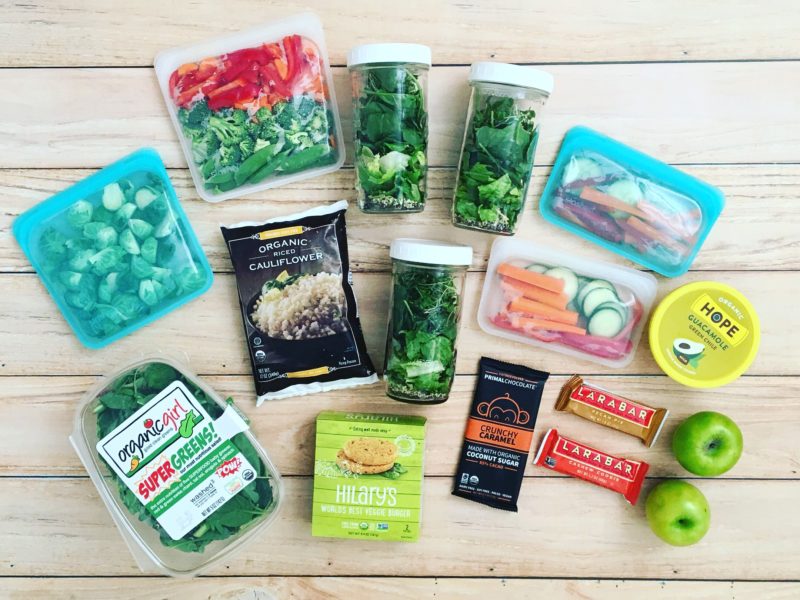 With joy and health,