On Sunday, I attended the Gluten-free Allergen Friendly Expo in San Mateo and it was a blast!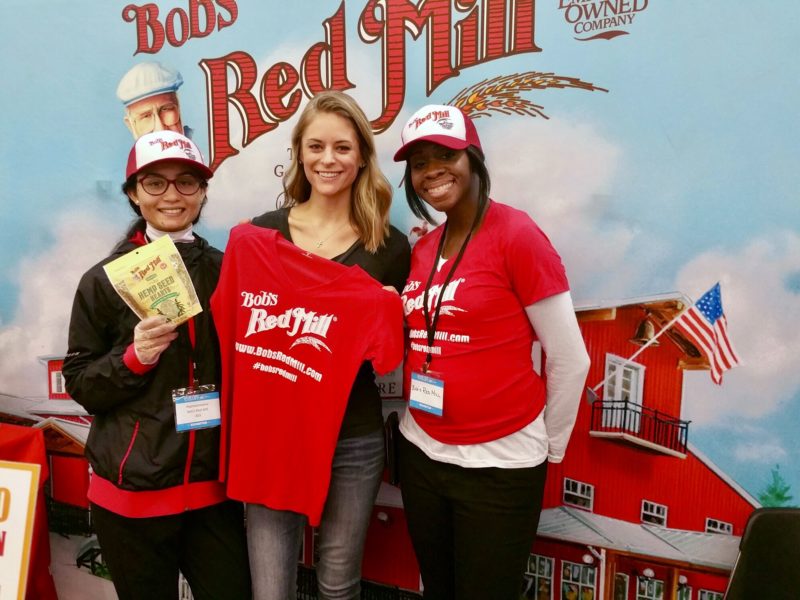 I love the Gluten-Free Allergen Friendly Expo because they represent something awesome: making it easier for people with food allergies and sensitivities to enjoy their food. They bring together companies and brands that have safe products for those with a restricted diet. Although, I don't like to think of it as a restriction at all! Being diagnosed with Celiac Disease in 2009 was one of the best things that ever happened to me.
Even if you don't have any diagnosed food allergies or sensitivities, these companies have awesome products! I wanted to share my favorites with you from the expo:
The king of gluten-free! Bob's Red Mill has a wide variety of products that range from gluten-free baking flour, hemp seeds, popcorn, flaxseed, almond meal, oats… their products go on and on. Their products are found nationwide in almost every grocery store so check them out if you haven't already!
This is the best tasting, best texture, and most flavorful gluten-free breast I've ever had. It tastes like sourdough, it doesn't crumble when you eat it, and it's perfect for sandwiches, avocado toast, grilled cheese, or stuffing for Thanksgiving! You can order this bread on their website at breadsrsly.com or search their store locator to find where it's sold near you!
Sunbutter is a nut-free sunflower seed spread that tastes way better than almond or peanut butter in my opinion. Go for the organic one as it only contains roasted sunflower seeds and no added sugar. You know I'm all about minimal ingredients, and this fits in line with that perfectly. It tastes great on apples, in smoothies, spread on celery, and any other ways you would normally use peanut or almond butter!
I have been using the collagen peptides for years, but discovered a new product of theirs, Collagen Beauty Greens! This is marine collagen with added greens like spirulina and wheat grass. There is 12g of protein per serving, so it's the perfect addition to your green smoothies in the morning. I experienced increased energy after the first time having it, and expect to experience other benefits over time. Collagen is fantastic for hair, skin, and nail health as well as digestive health. The Collagen Beauty Greens contain probiotics to enhance gut bacteria and hyaluronic acid for skin hydration. Plus the greens superfoods help support overall health. It's a fantastic product that I'm thankful to have found!
Plant-based goodness is what this company is about. They have veggie burgers, veggie sausage, veggie bites, millet medleys, the works! And let me tell you… this company is rocking it. I have never been into products of this sort until I tried Hilary's products… total game changer. No crappy ingredients and they are the perfect solution for busy people who need something quick and healthy to eat. I highly recommend trying! 
All things dairy-free here! Daiya is my favorite dairy-free company because their products don't make you feel like you're missing any dairy. That's a win in my book! They make substitutes for shredded cheese, cream cheese, mac n cheese, pizza, cheesecake, and more. They are also gluten-free and soy-free. The shredded cheese is great for quesadillas, tacos, or cheese sauces. I'm a huge fan of using the cream cheese as a dip for veggies and the mac n cheese is like a childhood favorite! I always have Daiya products stocked in my house – give them a try!
Join me as I walk you through the Gluten-Free Allergen Friendly expo!

More great things about the Gluten-Free Allergen Friendly Expo include samples, tastings, coupons, info on new products, and it's a great time. The expo is in many different cities across the United States, so visit gfafexpo.com for more info!
Let me know in the comments below if you try out any products above or if they are a favorite of yours too!
With joy and health,