First of all… what the heck is heavy metal toxicity?
Heavy metal toxicity is a result of the toxic accumulation of certain metals. Toxicity may occur as a result of industrial exposure, pollution, foods, medicines, or improperly coated food containers. These metals compete with and replace some essential minerals in our bodies, which can negatively affect many of the body's organ systems. Heavy metal toxicity can cause or exacerbate a wide range of conditions, including neurological disorders, chronic viral and bacterial infections, weight gain, and gastrointestinal diseases. In a nutshell, heavy metals are bad for your body and the less you ingest into your body, the better off you are.
Exposure to a certain amount of heavy metals is virtually unavoidable, so it is critical to learn how to avoid buildup inside the body and cleanse these toxins from our bodies. One component of treatment for heavy metal toxicity is termination of exposure to the metal. Another method of treatment (using food as medicine) also consists of the use of various chelating agents that cause the toxic element to bind and be excreted from the body. The good news is that this can be done without taking prescription drugs, as some herbs are excellent detoxifying agents.
The Healing Powers of Herbs
Herbs contain an array of healing properties. They support cleansing and detoxification processes while boosting immune function. Herbs such as parsley, cilantro and oregano have been shown to reduce inflammation, support digestive function, and aid in the removal of heavy metals from the body. These herbs attract heavy metal molecules, binding with them so that the toxins can be removed from the body naturally. By adding these powerful herbs to your diet regularly, you can also boost your kidney and liver function, increasing the detoxifying benefits. Herbs are also chock full of incredible flavors, so you'll get a tasty addition to your meals, plus all of the wonderful benefits!
The easiest (and my favorite way) to get these herbs in your diet is with pesto! You can throw all sorts of detoxifying herbs into a pesto and it tastes delicious… Plus it's versatile! Put it on roasted potatoes, butternut squash, zoodles, mixed into soups, or even spread on some gluten-free bread. Whatever floats your boat!
The Ultimate Detox Pesto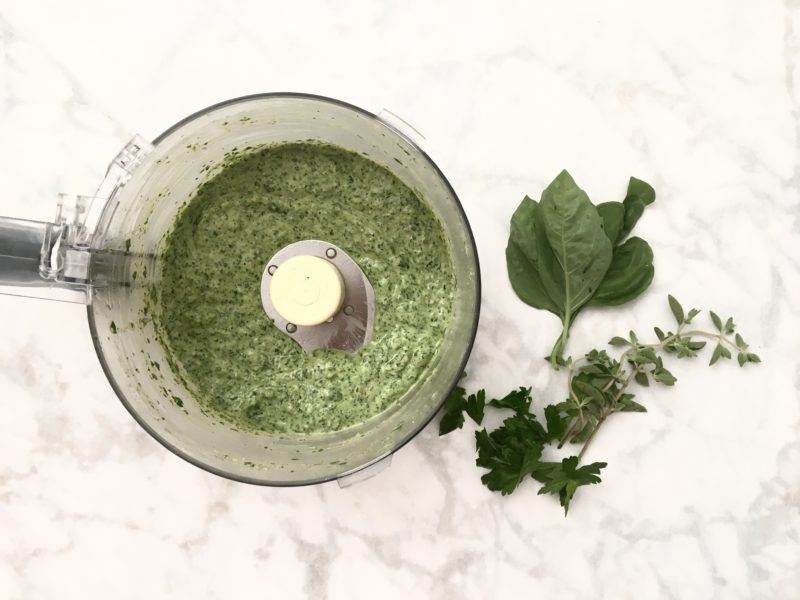 The Ultimate Detox Pesto
Recipe type:
Sauces & Dressings
Cuisine:
Vegan, Gluten-free, Soy-free
Ingredients
1 jalapeno, seed and flesh removed
4 cloves garlic, peeled
¼ cup fresh parsley
¼ cup fresh cilantro
¼ cup fresh basil
¼ cup micro greens
2 Tbsp. fresh oregano
2 Tbsp. raw pine nuts
2 Tbsp. raw sunflower seeds
Juice of 1 lime
1 tsp. Himalayan pink salt
½ tsp. black pepper
¼-1/3 cup extra virgin olive oil
Instructions
Add in the jalapeno and garlic into a food processor. Process to break them down into smaller pieces. Add in the remaining ingredients (except the olive oil) and process again so the ingredients break down and mix up. Turn the food processor on and stream in the olive oil until desired consistency is reached.
Below are more pesto recipes that will help your body detox from heavy metals:
With joy and health,

P.S. If you need more support or think you may be suffering from toxicity, apply for a FREE Start-Up Session where we can get to the root cause of your health issues and what's holding you back from feeling amazing!