Fruits and vegetables are nature's medicine. There are many healing benefits that can be experienced by doing plant-based meal prep that's loaded with fresh produce.
Every fruit and vegetable that was put on this earth has a purpose. Apples are nature's colon cleanser, papaya is nature's Botox, broccoli is natures multivitamin, cucumbers are nature's Zoloft, and the list goes on and on AND ON.
When I say, "use food as medicine", that's exactly what I mean. God gave us everything we need on this earth to keep our bodies healthy and strong – free of sickness and disease. The problem comes when the minute we get sick or have a headache, we turn to lab-made, synthetic materials to fix it. Modern medicines are great, but instead of popping a pill right away, go for a natural remedy. You may surprise yourself how much relief can come from a homemade cough syrup or an apple cider vinegar shot for acid reflux.
When you fill your diet with fruits and vegetables, the medicinal powers they carry help your body stay healthy and run efficiently. When you have a diet full of processed foods that your body can't recognize, havoc breaks out. People blame disease on "bad luck" or "genetics", but in reality, genes are like a grenade. They don't express themselves unless you activate them. By activating, I mean eating a diet full of processed food, sugar, hormone-filled meats, etc. Genetics are not a death sentence. You are in control of what genes get activated or stay stagnant by your choice in how you fuel your body.
The best advice I can offer is to stick to what nature intended. If it can only be made in a lab, don't eat it! Fresh is best – always.
And get the notion out of your mind that certain fruits and vegetables are "bad". Unless you have a serious allergy, no fruit or vegetable should be off limits to you. The key is educating yourself on how to prepare them!
These plant-based meal prep ideas and tips will make you fall head over heels in love with veggies.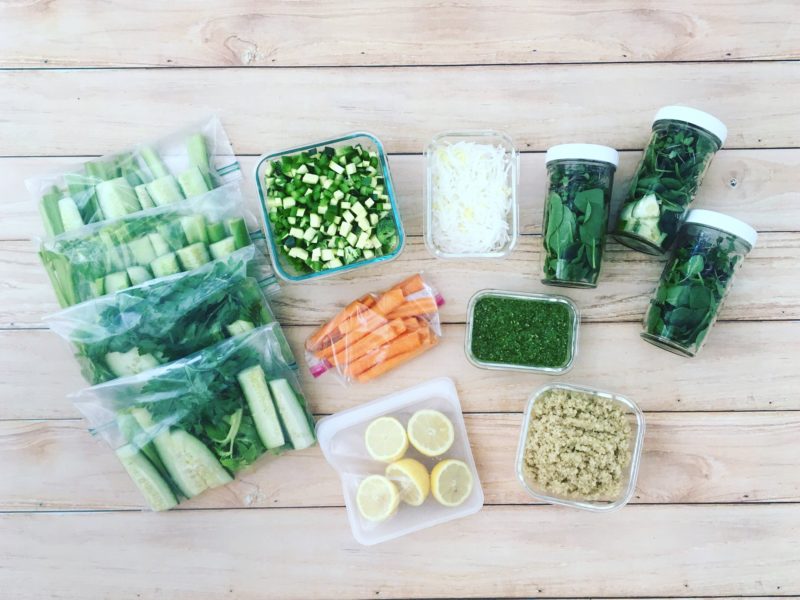 The Meal Prep Lowdown
1. Juicing bags:
Juicing is a wonderful way to get loads of nutrients in your body at a rapid pace. Your body doesn't have to digest anything so it instantly absorbs the nutrients which equals energy! Make up your juicing bags ahead of time to save yourself time during the week. Pictured above are gallon sized plastic bags with celery, cucumber, and parsley. You can choose your favorite combos for juicing and create your own bags! This allows you to wash and prep everything at once so when it's time to juice, all you have to do is put the veggies through your juicer. You can also do this for smoothie ingredients.
2. Lemon halves:
Lemons are love. And I love lemons. They have so many health benefits to them that I have them every single day without fail. Even when I travel! I do these lemon halves (pictured above) for my morning lemon water. You'd be amazed how much easier it is to just grab one half of a lemon instead of having to wash and cut a new one everyday! Read up on lemon water and my favorite drink here. I love using Stasher Bags to keep my lemons in – they stay really fresh and juicy all week.
3. Veggie "fries":
As you can see in the photo above, there are carrots in a bag. These are simply washed, peeled, and sliced in half lengthwise so I can prepare carrot "fries" during the week. Prepping veggies ahead will make it easier for you and you will be more likely to eat them when they are already ready-to-go! You can do this with many different veggies of your choosing. These veggies are a crucial part to plant-based meal prep because veggies are the center of it all!
4. Chopped salad: 
I'm a sucker for a big bowl of fresh, raw veggies. Pick your favorite veggies that you like eating raw, chop them up in even sizes, and add to a container. You can use this throughout the week to use in a salad or cook them in a soup! Pictured above is green bell pepper, zucchini, broccoli, scallion, and asparagus.
5. Daikon radish & ginger slaw:
These two ingredients are powerhouses. Daikon radish helps reduce the amount of mucous in the body and ginger is amazing for digestion. This is great to add to salads for a fresh crunch! Shred 1 daikon radish and 1″ of ginger. A great "food as medicine" addition to your plant-based meal prep!
6. Pesto
I ALWAYS have pesto on hand. Homemade pesto to be specific. And what I love about pesto is that you can make it any way you like! It's very versatile. Choose your herbs, nuts/seeds, citrus, and oil with salt & pepper and you're good to go! Or you can pick one of my recipes below:
7. Quinoa
Quinoa is a great go-to option for something that is filling, but healthy. A complete protein, quinoa is actually a seed! It cooks like rice and it's a great substitution for rice in meal prep. It's quick and easy to make. It's a 1:2 ratio of quinoa to water. Use vegetable broth when cooking to add more flavor! I love having quinoa on hand to make quick nourishment bowls or to add to a salad to make it more filling and add protein.
8. Smoothie jars
This is my new favorite smoothie hack that I've been doing for a few months now. Add your smoothie greens to a large mason jar and when you're ready to make your smoothie all you have to add is your liquid + superfoods! Greens are usually what take the longest when making a smoothie so if you wash, prep, and package them ahead of time it's easy to grab for a quick smoothie. And then you already have a jar to use for the finished smoothie too! These are some of my favorite smoothie green blends:
Spinach, watercress, micro greens
Cucumber, spinach, micro greens
Romaine, kale, watercress
Kale, spinach, micro greens
More plant-based meal prep tips
Always have lettuce on hand like romaine, arugula, chard, 0r any leafy greens that you like. These are important for making your plant-based meal prep very GREEN which is what you want! Greens = nutrients. Nutrients = energy.
For more protein, including beans into your plant-based meal prep is helpful. Lentils, black beans, chickpeas, or mung beans are all great options. If making beans from scratch, cook them with kombu to aid in digestion.
Make plant-based desserts to satisfy any sweet tooth craving. Check out my dessert recipes for ideas!
Visit the "Kitchen Gadgets" section on my shop page for my favorite meal prep kitchen tools.
So why should you do plant-based meal prep?
Well for me, my body craves vegetables. I've been eating straight up lettuce by the handful because my body is craving greens all the time. It blows my mind that 10 years ago I was eating a standard American diet full of gluten, dairy, and processed foods and today I eat arugula like it's candy.
Not only is this my story, but this is the story of many of my clients as well. Your tastebuds change when you develop a healthier diet. Your cravings aren't the same and you find yourself really enjoying a salad that you used to turn your nose up at. And not to mention how much more amazing you will feel when you feed your body nature's medicine.
Go from feeling bloated and tired to light and energized. When you find which foods fuel your body and take the action steps to implement lifestyle changes, you will feel the benefits. And good news, you don't have to do this alone! If you're ready to feel amazing, schedule a complimentary Start-Up Session with me and we can begin your journey to more energy and less bloating. And I'll also teach you how to fall head over heels in love with veggies.
With joy and health,