As a personal chef, I meal prep A LOT. Not only for clients, but for myself as well! And since all my clients have different dietary needs, getting creative is important. But there are ways to make typical meal prep foods (chicken & broccoli) much more exciting. Let me introduce you to: Thai Peanut Chicken & Garlic Broccoli. It's basic meal prep, elevated!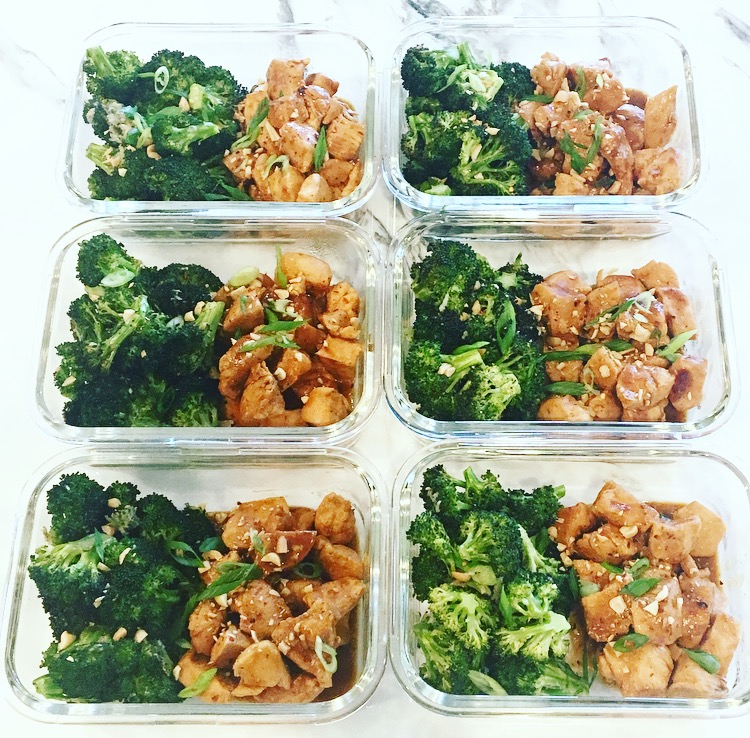 Thai Peanut Chicken & Garlic Broccoli
Cuisine:
Gluten-free, dairy-free
Prep time:
Cook time:
Total time:
Ingredients
Thai Peanut Chicken:
4 boneless, skinless chicken breasts, diced into 1" cubes
2 Tbsp. extra virgin olive oil
Peanut sauce:
½ cup peanut butter (smooth & unsweetened)
¼ cup extra virgin olive oil
¼ cup water
3 Tbsp. tamari
2 limes, juiced
4 garlic cloves, minced
2 Tbsp. ginger, minced
Garlic Broccoli
8 cups broccoli florets
2 Tbsp. extra virgin olive oil
6 cloves garlic, minced
1 tsp. Himalayan pink salt
½ tsp. black pepper
Finishing touches:
¼ cup peanuts, chopped
2 scallions, sliced
1 tsp. crushed red pepper flakes
Instructions
Preheat your oven to 375 degrees F.
Start by heating a large skillet pan (or two smaller pans) with olive oil. Turn on to medium heat and then add in the diced chicken. Let the chicken begin to cook and brown on all sides. Meanwhile, mix up the sauce.
Add the peanut sauce ingredients to a small bowl. Whisk together until a "sauce consistency" is formed. Add more water if needed.
Once the chicken has browned on all sides, but not cooked through, add in the peanut sauce to the skillet.
Cover, and let the chicken simmer in the sauce for about 10-15 minutes until the chicken is cooked through.
Add the broccoli florets to a parchment lined baking sheet.
In a small bowl, mix the 2 Tbsp. olive oil with the 6 minced garlic cloves, salt, and pepper.
Pour over broccoli and toss with your hands to coat all the broccoli in the garlic and olive oil mixture.
Put in the oven and bake for 15-20 minutes until broccoli turns bright green and starts to crisp.
Serve the chicken and broccoli side by side, topped with chopped peanuts, scallions, and crushed red pepper flakes.
Enjoy!
With joy and health,