I'm a big fan of summer, but I have to say, winter is my favorite. The crisp morning air, the musty smell of wet pavement after it rains, the sprinkles of foggy mist on my face when I step outside. I just love it.
The body needs different foods in different seasons. In summer, berry smoothies do a body good. But in winter, our bodies need warm foods (and I'm not referring to temperature). As a food enters our body, it either warms our core temperature or cools it down. Warming foods have a heating effect in our bodies, meaning that they keep our temperature at it's normal range rather than bring it down. Cooling foods have the opposite effect. It would only make sense that during winter we would eat warming foods, right? Because who wants to eat a large cold salad and watermelon when it's snowing outside? Not me!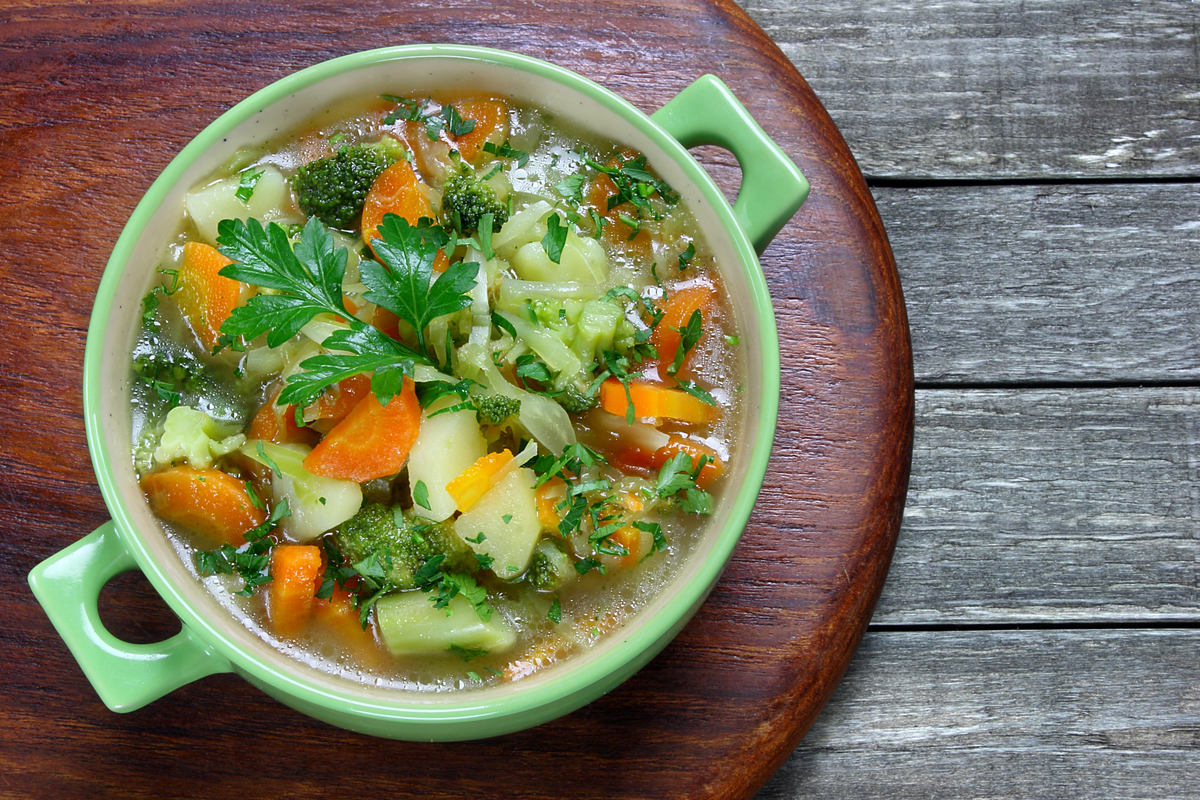 When the weather starts getting colder, soup is my favorite thing to make. It's so versatile and you can make it in big batches to freeze for later. And not to mention, it makes the house smell AH-mazing when it's cooking!
This Healing Vegetable Soup, in particular, is one of my favorites. It's made with chicken bone broth, which is high in collagen. Collagen supports joint health (perfect for a dancer!) and it also supports hair, skin, and nail health. Of course regular chicken or even vegetable broth can be used, but if you are feeling adventurous and want to use bone broth, check out how to make it yourself here.
Okay, enough talk, here's the recipe:

Healing Vegetable Soup
Recipe type:
Soups & Salads
Cuisine:
Gluten-free, paleo, dairy-free, egg-free
Prep time:
Cook time:
Total time:
Ingredients
1 Tbsp coconut oil
1 yellow onion, diced
1 tsp salt
2 cloves garlic, minced
2 parsnips, chopped into 1" pieces
4 carrots, chopped into 1" pieces
1 sweet potato, chopped into 1" pieces
1 tsp fresh thyme, de-stemmed and chopped
1 tsp fresh rosemary, de-stemmed and chopped
8 cups chicken bone broth (or vegetable broth)
1 Tbsp raw apple cider vinegar
2 bay leaves
1 tsp dried parsley flakes
1 bunch swiss chard, de-stemmed and chopped
Juice of 1 lemon (or 2 Tbsp)
Instructions
Start with coconut oil in a large pot on medium heat.
Add the chopped onions and salt and cook for about 10 minutes until onions are translucent.
Next add in the garlic, parsnips, carrots, sweet potato, thyme, and rosemary and cook until vegetables begin to brown on the sides.
Add in the broth, apple cider vinegar, bay leaves, and parsley flakes. Bring soup to boil, then reduce heat, and simmer for approximately 25-30 minutes.
At the end of cooking, add in the Swiss chard and lemon juice.
Leave pot on stove with the lid on for about 10 minutes to let the Swiss chard wilt down and the flavors merry together.
With joy and health,